Loving Or Loathing The New Derwent Lightfast Coloured Pencils? Read My Review To Find Out What I Think......
If you are a coloured pencil artist like myself, then I'm sure you have heard about Derwent releasing their Lightfast range with the first 36 colours in 2018 and now the next 36 have been released in June 2019. There is also a wooden box set of 100 due to be released, although I've not seen a date for these as yet. I have to say from the outset, that I have an addiction to new art materials, particularly coloured pencils! I'm like a kid in a sweet shop, so I have been very excited waiting for the release of these next 36 pencils. I was very restrained when the first set became available and I only bought a few to try. Since then, I have gradually been collecting them all. I did however, have some questions about them;
What the new set of 36 colours actually like?
What would the range of colours across the 72 be like?
How would they preform?
Would the new set of 36 be available as a tin of 36 without having to buy all 72?
I know they are called Lightfast, but how lightfast are they really?
In this blog, I shall be looking at all of these questions and giving my own opinions on them.
Are these new set of 36 pencils available as a separate set?
First of all the good news is that you are able to purchase these second set of 36 pencils in a separate tin or as individual pencils. Prices vary depending where you purchase them. On the Derwent's own website, a tin of 36 is £109.99, a tin of 72 is £229.99, a wooden box of 48 is £169.99 and individual pencils retail at £3.20 each. If you shop around then there are some shops offering these at cheaper prices. For example, Cult Pens have a tin of 36 for £73.69 and a tin of 72 for £149. They also offer individual pencils for £3.20 but they currently have an offer on of 3 for 2. If you are just looking for individual pencils then I can personally recommend the lovely Emma Kerridge who runs the coloured pencil shop online. She offers individual Lightfast pencils at £2.90 each and gives any members of the UKCPS a 10% discount. I have always had an excellent service from her and never had any problems with pencil leads breaking with all the brands I have purchased from her.
First Impressions
The new tin is the same picture as the first set of 36 pencils. The only difference appears to be a sticker on it saying 36 new pencils. The picture on it is by the very talented Jessie Lane and shows what can be achieved with these pencils. I've got to say, I was so excited when these arrived and I couldn't wait to open them and try them. First impressions were I liked the look of the new colours and could immediately spot a number of pencils that I thought would get used a lot in drawing animals which is what I mainly focus on.
So what colours are actually in this news set of 36?
Well, there is a couple of bright yellows (Banana and Mustard) and oranges (Amber Gold and Flame). Four new shades of reds ranging from the bright to the very dark (Derwent Red, Strawberry, Cherry Red and Merlot). There is only one new pink (Dusky Pink) and three shades of purple (Deep Rose, Purple and Wild Lavender). The new set is heavily weighted towards blue and green with seven new shades of blue that are mid to dark in shade (Deep Blue, Sapphire, Denim, Mid Blue 70%, Midnight Blue, Dark Indigo and Ocean Blue Dark), two turquoise colours (Light Aqua and Turquoise Green) and five new shades of green (Vivid Green, Pine, Grass Green, Grass Green (70%) and Foliage) that look very useful for foliage and landscapes. The new set also consists of a Light Bronze, three orange sienna colours (Persian Orange, Burnt Sienna and Mars Orange), four shades of grey (Fossil Grey, Moonstone, Granite and Platinum) and a Mars Black.
So how do these colours fit in with the first set of 36?
Well as you can see the range was in need of some more shades of yellow as the first set had one bright yellow (Sun Yellow) and one light creamy yellow (Champagne) The two new yellows (Banana and Mustard) are actually quite similar in colour when I tested them and although nice colours, I wish there was a shade between the Champagne and the brighter yellows. For example, in the Prismacolor range I like the Eggshell which is a muted yellow and I feel that this is missing from the current 72 pencils. Having looked at the Derwent Colour chart for all 100 pencils, it could be that the Gold could perhaps fill this role but it is difficult to tell from a tiny patch of colour on a computer scene, so I will have to wait and see!
The original set of 36 didn't contain any oranges and so it was necessary for them to include some in this next set of 36. There is however only two shades, one is a yellowy orange and one more of a red orange. There are six other shades of yellow and orange due to be released in the set of 100, and I feel these are very much needed as currently this is the area lacking the most in terms of choice. I am particularly looking forward to trying out the Golden Sun, Apricot and Dark Honey which are orangey yellow in tone and I think could be very useful for drawing tigers.
For the subjects I tend to draw, I don't use a lot of reds but I can see that the new shades were very much needed as there was previously only one available. I can see how they would be very useful for drawing flowers and fruits etc. For me personally, I can see that the new dark red Merlot would be the most useful, but I would have liked to have seen another shade of dark red to go alongside this.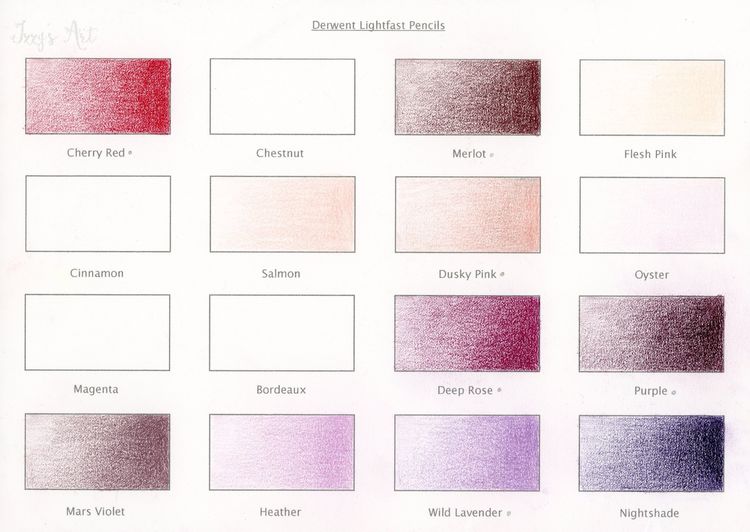 The current range of pinks are either pale or muted in tone. I have to say I do like their tones but currently they are missing a bright pink which I would want to include in my set which I think the Magenta from the set of 100 includes.
One of the things I particularly liked about the first set of 36 pencils was the range of purples and this has been made even better with their new additions. While I like a couple of shades of purple from other brands of pencil that have good lightfast ratings, I felt that this was something lacking in my palette to an extent. I am very pleased to have these new colours to play with but the Violet, Blue Violet and Nightshade from set 1 are still my favourites!
As I mentioned before, this set is heavy on the blue. It needed to be as there were only two available in the first set of very pale (Artic) and a bright mid tone blue (Mid Ultramarine) which I have to say I have used both quite a lot. In this second set, there is more emphasis on mid to very dark blue tones which could be useful for water. However, I would have liked to see a couple more shades of light to mid tone blues for skies. I feel there is quite a jump from the Mid Ultramarine to the next shades.
I was very excited to see the Light Aqua and Turquoise Green. What beautiful shades of colours! I now just need to find something to draw where I can really test them out!
This set of 36 contains some great looking shades of green that would be useful for landscapes. The first set had three very dark greens that are very similar in colour. The addition of these new shades has really given more variety and there are still five more shades of green to come in the set of 100. I shall be very interested to test these out.
I like the addition of the three orange browns (Persian Orange, Burnt Sienna and Mars Orange) I shall personally be testing these out when I next draw a tiger! There are some lovely shades of brown across the 72 pencils. The colour that is missing for me looks similar to the Autumn Brown which is part of the 100 set.
The four new shades of grey released in this set were needed to increase the range and there are some lovely shades. For me they could do with adding a couple of darker greys.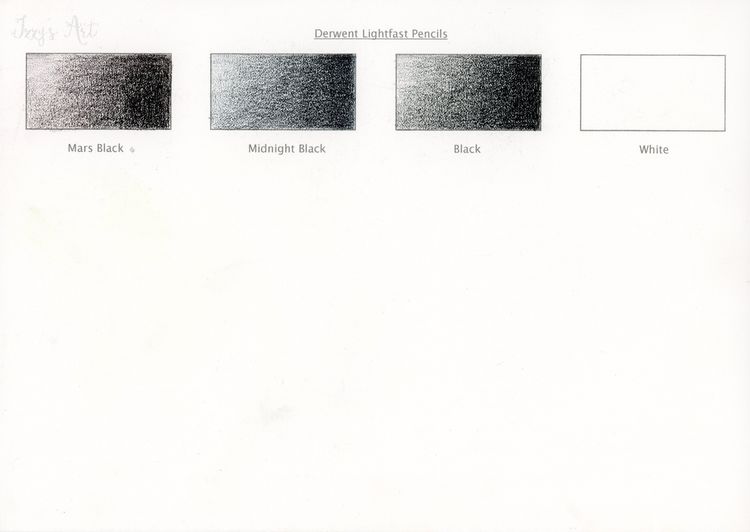 What I do like about these pencils is the fact that there are three shades of black. I really like the new Mars Black which has a browny purple hue to it.
Overall, I think these new set of 36 pencils really extend the range and fill in most of the gaps that were in the first set.
What are my favourite colours?
Those colours that you use the most in your work really come down to personal choice and what subject matter you draw. For me though, I have developed some firm favourites from the first 36 pencils and I can definitely see I will be adding to that list with these next set. From the first set of 36, I have been using Violet, Blue Violet and Nightshade an awful lot. I have found them to be brilliant in layering to create a good deep black along with blues and browns. I also really like the Mid Ultramarine, and find this a great fresh light blue. The other three colours I particularly like to use when drawing animals have been the Yellow Ochre, Wheat and Sandstone. From the new set of 36 pencils, I can already see that the Fossil Grey, Moonstone, Dusky Pink, Mars Violet, Persian Orange, Burnt Sienna and Mars Orange will be very useful for drawing animals.
What are they actually like to use?
So onto the exciting part of testing them out. When trying out pencils and testing them and what the colours are like, I like to do so on the type of paper I'm drawing on to see how they perform. I also like to see what they are like with different pressures so I do a graduated scale. I have done this on quite large rectangles, mainly so I can share the colours with you clearly. You are welcome to download this template here if you would like to use it.
Downloadable Derwent Lightfast Pencils Blank Colour Chart
If you want to create smaller charts, then just print them out at 2 or 4 to a page to suit your needs. I have included all 100 colours on my chart ready for when the next pencils become available hence the blank spaces.
Firstly in terms of what they look like and feel like to hold. I personally really like the shape of the round barrel and I like the fact they are wider. I also like the wooden barrels with the colour at the ends. This is really useful if you have them stored upright. If you are someone who stores their pencils in pots with the points sticking up then this is not very helpful. The names of the pencils are written in black on the sides which is easy to read. I have found on a couple of my pencils that the name has unfortunately rubbed away, but I can still read what it says.
I have personally always preferred using what is referred to as wax based pencils over oil based. However, these pencils have fitted into my collection amazingly and they work really well with my other brands. They have made me look at oil based coloured pencils with a change of heart. What I like about them is that there are very creamy and buttery to apply, yet they are fairly hard which is good for details as well as blocks of colour. They are great for applying light layers and then blending with more pressure in the final layers. I did find though that the lightest colours seem harder than some of the darker colours. Also I found some of the lighter colours such as the Flesh Pink quite scratchy in comparison to the darker colours. I'm not entirely sure why, but the Dusky Pink had some grey in it when I did my tester square. I've never had this happen before and I'm not sure if it was something that got stuck to the lead when sharpening or if it was in the lead. It will definitely make me double check my pencils before using them though. Overall in terms of what they feel like to use I think Derwent have struck a winning balance.
How Lightfast are they?
Now these pencils might be called Lightfast, but I wanted to find out just how Lightfast they actually are! The information I have found out is taken directly from the Derwent Website. Derwent say;
'The revolutionary core is resistant to prolonged colour change ensuring artwork will not fade for up to 100 years under museum conditions.'
'Many people equate lightfastness with permanence.This is not strictly accurate as many other factors can affect the permanence of your work such as humidity, temperature, atmospheric pollution, reactions between different pigments and chemicals, the paper you use, and even the way you use your art materials.
For optimum performance of your pencils follow these simple guidelines:
1. Use high quality pH neutral heavy weight paper
2. Create strong, even layers and avoid damaging the substrate
3. Do not hang or exhibit your work in direct sunlight
4. Mount your work behind glass, preferably with an ultra violet absorbing coating
5. Remember that the lightfastness of Derwent Lightfast may be adversely affected if mixed with other products'
The Lightfast pencils have had two types of testing ASTM D6901 and ISO 105. I wanted to look a little more into what this actually means. The ASTM D6901 is the international standard for lightfast testing. According to the Coloured Pencil Society of America;
'D6901 uses two types of lightfast testing, a sunlight test and a xenon arc test, to simulate the effects that prolonged sun exposure will have on a colored pencil. With the results of these tests, a colored pencil can then be accurately placed into a lightfastness category. Lightfastness categories are I, II, III, IV, and V with I being the best (very lightfast) and V being the worst (fugitive/not lightfast). Only pencils with lightfastness ratings of either I or II can be labeled as complying with the standard. For an entire line of colored pencils to be labeled as D6901 compliant, every pencil must have a lightfast rating of either I or II.'
The ISO 105 testing is measured on the Blue Wool Rating scale where the numbers work in the opposite direction. So 1-3 poor, 4-5 fair, 6 is good, 7 is very good and 8 are excellent. I can only find a broken down chart of these results for the first 36 pencils. Of which most where classed as excellent, 5 as very good and there were two classed as good. However all of these first 36 pencils received a I on the D6901 standard tests which is a little confusing!
So what does all this actually mean?! Having looked at the Derwent colour chart, they have classified all 100 of these pencils as either a 1 or 2. There appears to be 63 pencils classified as a 1 and 37 classified as a 2. All of the first set of 36 pencils have a rating of Lightfast 1 and in the new set of 36 pencils, 21 have a lightfast rating of 1 and 15 pencils have a lightfast rating of 2.
From what I understand a lightfast rating of 1 is excellent and under museum conditions as mentioned above is over 100 years. A lightfast rating of 2 is very good and under museum conditions is 50-100 years.
Overall conclusions
I think these pencils are amazing! They have definitely joined my favourite brands and I think they work very well with other pencils. They have a beautiful rich buttery consistency yet at the same time give the hardness for detail that I don't necessarily have with some of my other brands. They have some beautiful colours within the set of 72 but I feel that there are some gaps. Some of these will be filled when the set of 100 are released. However, I do think it would have been helpful to have some lighter to mid tones of blue in there, as the set has quite a lot of mid to dark tones of blue and doesn't seem balanced. There are 63 out of the 100 pencils with the highest lightfast rating which is brilliant and the rest with a lightfast rating of 2 which is still very good. I guess it depends what you are looking for! For me personally I will work with pencils with a rating of 1 or 2 so these fit the bill for me. They are on the higher end of the price scale per pencil, but for a decent lightfast rating, then I think they are worth it. Overall I love these pencils and I can't wait to get the last 28 pencils to complete my set! If you have not used them, then I would definitely recommend purchasing a few individual pencils to see what you think.
Happy Drawing
Izzy x
If you would like to keep up to date with new blogs, news, top tips, promotions etc then sign up to my newsletter.