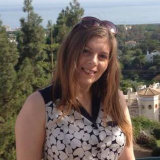 Hi, my name is Isobel Buckley and I have a huge love of painting and drawing. There is nothing quite like seeing a picture emerge before your eyes, created with the touch of your pencil or brush, and seeing and hearing about the pleasure clients get when they receive their artwork.
I live in Bedfordshire and I have been drawing and painting for many years following achieving a fine art degree with American Studies. I love to learn new things and I believe that you can constantly improve yourself and learn new techniques, which is why I have also embarked on several other art courses since leaving university. It is also why I became an Early Years teacher for over 10 years, before having my beautiful twins in early 2016. It was at this time I decided to become a stay at home mum, taking the opportunity to spend more time focusing on commissions and my own artwork. While I enjoy drawing anything, my passion is animals. I particularly like to create detailed pictures of wildlife animals and love spending time visiting zoos and safari parks to sketch and photograph these beautiful animals.
In 2010 I won sponsor's choice with 'On The Lookout' in the 'Simply The Best' competition run by 'Leisure Painter' and I had my work displayed at the 'Art Materials Live' show at Birmingham NEC.
In August 2012 I won the Ken Bromley art cover competition with 'sleeping Lion' and a write up can be found at www.artsupplies.co.uk/covercomp/ It is also particularly exciting because my picture was on the front of their Autumn/Winter catalogue.
In 2015, my piece 'In the Still of the Morning' was shortlisted for the David Shepherd Wildlife Artist of the Year Competition. My work was exhibited and sold during the exhibition at the Mall Galleries, London. I also had a write up in the MK citizen newspaper about my work.
In 2017 I was selected to be part of the Exhibition of Wildlife Art in Wirral.
I had a piece selected for the Artist's Showcase in Ann Kullberg's Colored Pencil Magazine October edition.
I also had my picture 'I've Got My Eye On You' selected as one of 120 from over 800 entries to be part of Ann Kullberg's CP Treasures book volume 5 which is a huge honour to be amongst the best coloured pencil artists in the world.
In 2019 my piece 'Majesty' was shortlisted for the Artists and Illustrators Artist of the Year 2019 and was exhibited in the Mall Galleries, London.
My picture 'Moment In Time' was selected as one of 120 from over 900 entries to be part of Ann Kullberg's CP Treasures book volume 6 which was a hue honour for a second time running.
Very excitingly I was asked to be part of Ann Kullberg's Draw Wildlife book and write a 14 step by step tutorial on a tiger which I did of 'Out Of The Shadows, Burning Bright' This was published in August 2019 and contains some fabulous tutorials from artists around the world.
I wrote a tutorial of how to draw a caracal which was featured in the December 2019 issue of Ann Kullberg's Colour Magazine.
This year, 2020, I was commissioned by the amazing Ann Kullberg to write a full in-depth tutorial of a black jaguar which they then published as a book and as a pdf version. The book is available to purchase on Amazon (
UK AMAZON LINK
) (
USA AMAZON LINK
)
The PDF is available to purchase
HERE
from Ann Kullberg.
Following this, I was asked to write an article about myself and my work for Ann Kullberg's Color Magazine. It was entitled 'Capturing Spirit and Soul' and the 5 page article was published in the June edition.
I had my piece 'Benji" chosen for Ann Kullberg's Hidden Treasures 6 Book and this piece was also published in Colored Pencil Magazine's September edition Latest and Greatest Gallery Section.